Summary: Countersales UK Ltd is a distributor and system integrator of industrial automation products and solutions.  They have developed a comprehensive line of counting solutions using the Unitronics Samba PLC+HMI.  These controllers improved accuracy for Countersales' customers, especially when switching between metric and imperial measurements.  The integrated touchscreen HMI offered an added benefit by making the system very user-friendly.
"We have been able to develop a suite of programs, which now allow us to offer a variety of cost effective measuring and counting solutions."
Countersales UK Ltd is a distributor and system integrator for the engineering and automation markets; for over 10 years, they have brought high-quality solutions to market.  One market segment in which Countersales UK has successfully innovated was developing measurement systems.  They replaced outdated counters with an all-in-one control system from Unitronics.
This system was originally developed for a customer working on a length measuring system for textile manufacturing.  The customer sells their machine internationally, so they needed a control system that was easy to localize for different regions; they were particularly concerned with being able to switch between metric and imperial measurements.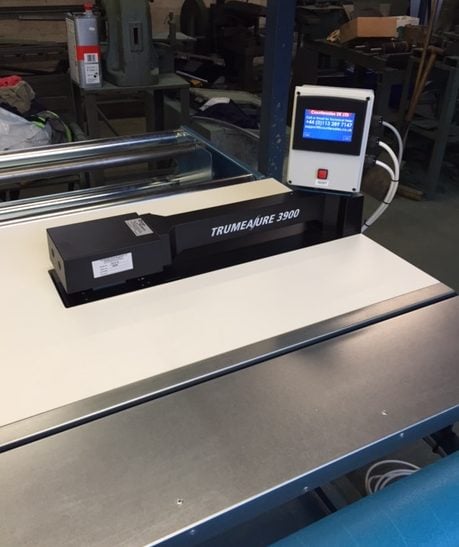 Countersales Uk created a measuring system using a Samba all-in-one programmable logic controller from Unitronics.  With a built-in touchscreen HMI and onboard I/O, including high speed counters, the Samba provided everything Countersales needed for a sleek, modern measurement platform.  The HSC inputs enable fast, accurate measurements, while the HMI lets users switch between units of measure at the push of a button.  This control solution eliminated costly errors caused by inaccurate length measurements and the associated wasted materials.
David Paley at Countersales UK Ltd says, "Working with the team at i4 Automation has enabled us to move quickly from a concept to having a commercial solution available for sale, and their ongoing technical support has been invaluable throughout this process."  Not only was the support through the sales and development period excellent, the Samba was very cost effective, while offering a more modern look and feel. Traditional counters often have small buttons and can be awkward to read and operate, especially compared to a touchscreen display.
In fact, Countersales was so successful using the Samba for controlling measuring systems that they have now developed a variety of measuring and counting systems.  The Samba's versatility means that it's easy to use with a range of materials--fabric, floor covering, wood, sheet metal, plastic or polythene sheets.  For example, one of their customers manufactures conveyor belting and required accurate, cost-effective measurements.  Countersales UK has continued to add to and improve their measurement options; they developed a ticketing system to print a record of what's been measured.  The Samba tracks individual measurements and batch or lot data, which can be printed to a paper receipt along with the time and date.  Paley comments that working with the Samba, "we have been able to develop a suite of programs, which now allow us to offer a variety of cost effective measuring and counting solutions."
More Stories by Industries
User's videos
Watch success stories videos