2020 USA Training Schedule
3 Days VisiLogic Training
DAY I:
– Vision series and Software Introduction
– Program Sequencing
– Ladder Elements (Contacts, Coils, etc.)
– HMI Elements (Buttons, Images, HMI Jumps, etc.)
– Bit Operations, Timers, Numeric Operands
– System Operands – Timers – Subroutines
– HMI – Data Display (Trends, Bar Graphs, Meters, etc.)
DAY II:
– Physical Inputs/Outputs
– Vector Tools
– String Tools
– Data Logging Options
– SD Card Usage
– String Libraries
– Utility Software –Alarms
Day III:
– Communications Introduction
– Physical Layers (Serial, Ethernet, CANbus, etc.)
– Protocols (Modbus, FB Protocol, UniCAN, etc.)
– Remote I/O
– Email
– Modem (SMS/GPRS)
– Simple Webserver
– PID – Remaining Time for Q&A
2 Days UniLogic Training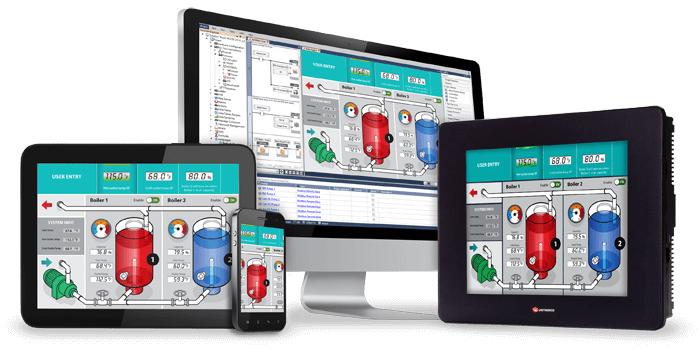 DAY I:
– UniStream and UniLogic Introduction
– Software Navigation
– Ladder Elements (Contacts, Coils, etc.)
– HMI Elements (Buttons, Images, HMI Jumps, etc.)
– Data Tags
– Structs
– Physical Inputs/Outputs
– Timers/Actions
– User Defined Function Blocks
– Data Tables
– Data Sampling
DAY II:
– Communications Introduction
– Physical Layers (Serial, Ethernet, CANbus, etc.)
– Protocols (Modbus, FTP, Ethernet/IP, etc..)
– VNC Connections
– Modems & SMS
– Email
– Remote IO with UniStream
– Webserver
– Remaining Time for Q&A
TRAINING COST:
The seminar costs $100 a day. Unitronics Reps and distributors attend at no cost.
WHAT WILL I NEED?
You will need to bring a laptop with an Ethernet port, and latest version of software downloaded. Check out our Downloads page for the latest version. In addition you will need the following, depending on the training you are attending:
VisiLogic Training:
-Enhanced Vision Series PLC
-24VDC Power Supply
-USB-Serial Converter
UniLogic Training:
-UniStream Panel & CPU
-24VDC Power Supply
WHAT IF I DO NOT HAVE A PLC TO BRING?
If you do not have a PLC to bring to the class, don't worry! We can provide you with one to borrow during class. Please specify that you will need to borrow one on the registration form.
CAN I CHOOSE WHICH DAYS TO ATTEND?
Yes, we encourage you to only attend the days that you feel pertain to what you would like to learn.
IS THERE A DEMO DEAL FOR ATTENDING?
Yes, there is a special promotion for those who register for our trainings. For more details, please contact: [email protected]