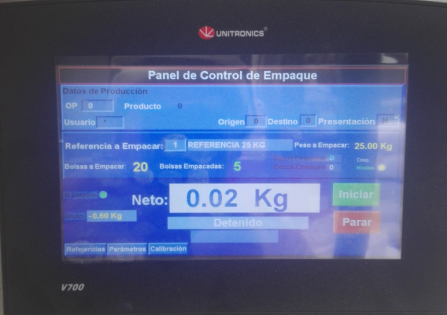 Summary: Packaging control system for animal feed products, both flours and pellets packed in 10 Kg, 25 Kg and 40 Kg using a net-band packing machine.
IGCP Engineering, a leading system integration firm in Colombia, specializes in designing and building complete weighing and dosing systems using scale hoppers.
When a major producer and packager of balanced feed for livestock such as poultry, swine, and horses, house pets, and fish farming needs turned to them for a an efficient, fast, and reliable packaging solution, IGCP Engineering turned to Unitronics.
They selected the Vision 700, with its built-in 7 "touch HMI, supporting 65,000 colors, adding Snap-in I / O and Expansion modules—plus the IO-LC1 module for weight control.
"Unitronics' control products enabled our end customer to achieve production goals; the high speed and resolution of the IO-LC1 ensure accuracy in weight measurement—and freely supplied VisiLogic software saved on costs."
The project was for a bagging system using a net baler per band, with a capacity of 16 bags / min depending on the space and operating conditions.
Their system needed to ensure the precise weight of each bag, and enable supervision of the packed products, while tracking the number of bags packed. The 24-bit high resolution of the Unitronics IO-LC1 weighing module allowed quick responses and readings of the baler weight variables.
Using Unitronics to implement the packaging system and production management enabled:
Control over the actual quantities packed vs. the target quantities to be produced
SACKOFF indicator
Accurate weighing: The weight of each bag in kilograms to a resolution of 10 grams.
Real-time production reports via Ethernet
In addition, IGCP used VisiLogic™ All-in-One software, supplied free with the Vision 700 for PLC control programming and HMI design, thus eliminating the costs of software licensing.
Giovanny Serrano, a Colsein Engineer who consulted on the project, said:
"Unitronics' control products enabled our end customer to achieve production goals; the high speed and resolution of the IO-LC1 ensure accuracy in weight measurement—and freely supplied VisiLogic software saved on costs."
More Stories by Industries
User's videos
Watch success stories videos