Control your application remotely from everywhere and anytime!
Press Release
Unitronics, the industry leader in the development and manufacture of integrated PLC + HMI controllers, recently launched the Unitronics Remote Operator mobile app for the Vision™ and Samba™ series.  Available from Apple's App and Google Play stores, the Remote Operator application enables you to remotely access your Unitronics controllers using your smartphone and tablet. Via the app, you can view and operate the controller's HMI —as if you are physically touching the controller. Using Remote Operator you monitor automation processes, press keys and touch HMI objects, change parameter values, view Alarms and process value Trends. You can define and access multiple controllers from a single mobile device.
About Unitronics:
Unitronics designs, manufactures, and markets quality PLCs for the global market. Easy -to-use, efficient, and affordable, our products have been automating processes, systems, and stand-alone applications since 1989.  We maintain more than 160 distributors in over 55 countries around the globe, enabling our customers to purchase our products with local marketing support.
Unitronics' field-proven PLCs automate hundreds of thousands of installations in diverse fields: petrochemical, automotive, food processing, plastic & textile, energy & environment, water & waste water management—anywhere automated processes are required.
Our clients include: Coca-Cola, General Motors, Michelin, Tupperware, Intel, Bayer, Colgate-Palmolive, Land Instruments, Mercedes, Agfa, Tyson Foods, Pirelli, Fiat, Samsonite
Click here for Unitronics success stories
For more information, visit our website: www.unitronics.com, contact Unitronics at Tel.: +972-3-39778888, Fax: +972-3-39778877, or email: [email protected]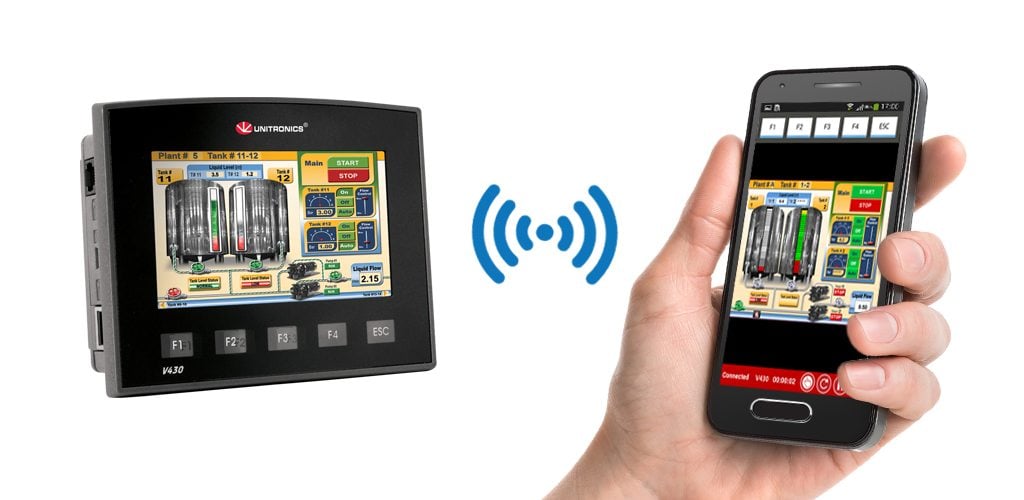 The flat fascia and IP66/IP65/NEMA4X rating makes Samba an excellent fit for the food and pharmaceutical industries, anywhere spray or wipe down requirements apply.  All Samba units come supplied with a programming port (USB for 4.3" and 7 ", RS232 for 3.5"). Additional ports can be added: RS485 or Ethernet, and CANbus port.  Samba supports GPRS/GSM, email and SMS, as well as industrial TCP/IP protocols, MODBUS, DF1 slave, CANopen, and J1939; it can also be adapted to any 3rd-party protocol.
Samba™ uses Unitronics' free VisiLogic software. Visilogic provides a single, simple environment for hardware and communications configuration, Ladder application development, and HMI design, including a free library of industrial images. Free utilities include remote PC access and data export. Unitronics offers unlimited technical support for all of their products and supports an active user forum.
About Jazz 20
Jazz®–the PLC + HMI that replaces a simple "Smart Relay" with a real PLC—for the same low price.
Jazz® series controllers are full-function PLC + text HMI with onboard I/Os—available in configurations including digital, analog, temperature, and high-speed I/Os. Specifically designed to control small machines, and to perform simple-to-medium automation tasks, Jazz enables you to use a low-budget unit without compromising on features and technology.
Jazz® offers the flexibility of Ladder programming plus communication options such as GSM/SMS, Remote Access, and MODBUS networking. The HMI application enables you to design up to 60 text screens, using up to 64 HMI variables for the display of time, date, and real-time system data. Programming is as easy as it gets—build Ladder Logic control applications using click-and-drop elements…and create your HMI application in the same U90 Ladder software environment, included at no extra cost.
About Unitronics
Unitronics (R"G) Ltd. is an Israeli company with international presence that has been producing PLCs, automation software and accessory devices since 1989.
The very first all-in-one controller—HMI+ PLC + onboard I/Os—was released by Unitronics nearly 25 years ago. An early pioneer of this market, Unitronics continues to be a global trendsetter in developing and manufacturing all-in-one controllers with a price/performance profile that boosts competitive advantage.
Unitronics' All-in-One controllers combine full-function PLCs and HMI operating panels into single, compact units.  These HMI + PLC devices are programmed in a single, user-friendly environment.  Our clients save I/O points, wiring, space, and programming time; elements that translate directly into cost-efficiency.
Unitronics supports a global network of distributors, as well as a US subsidiary.
For more information, visit our website: www.unitronics.com, contact Unitronics at Tel.: +972-3-39778888, Fax: +972-3-39778877, or email: [email protected].