Moving your Control Forward – VFD from Unitronics
VFD launch expands Unitronics offerings to motion control
In keeping with their commitment to centralize and streamline industrial automation and control, Unitronics is announcing a new VFD line.
Unitronics, the leading experts in the development and manufacture of integrated PLC + HMI controllers, has launched its own line of Variable Frequency Drives, or VFDs, in early July. With this launch they are better able to meet customer demand for motor and motion control solutions.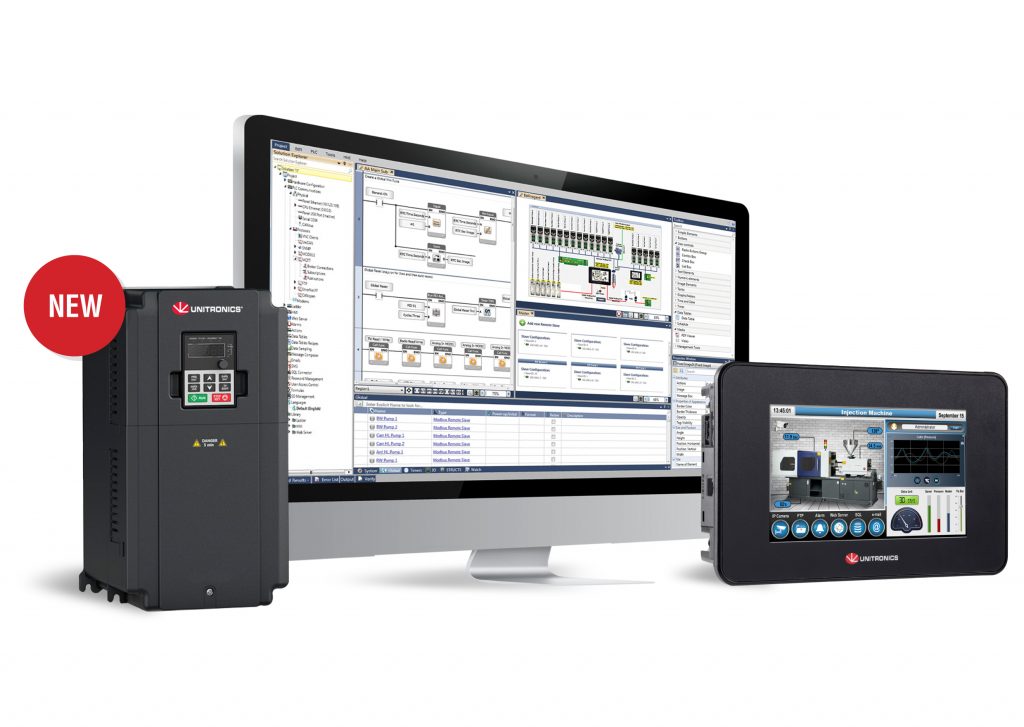 Variable Frequency Drive (VFDs)—also called inverters—optimize machine performance, save energy, and lower machine lifecycle costs across a range of applications, including packaging, conveyance and material handling, machining, pump and fan applications, and more.
Unitronics' VFDs seamlessly integrate with their existing lines of PLC + HMI All-in-One controllers; the VFDs will be fully integrated with the UniStream, Vision, and Samba product lines.
The addition of a VFD product line simplifies workflow by enabling customers to obtain VFDs, PLCs, and HMIs from a single supplier, program them all in a single software, and receive support from the same team throughout a project.
VFD Features
Unitronics VFDs are a general purpose solution and offer options for both single and three phase VFDs from 0.5 horse power up to 150 horse power. Features include:
EMI Filters, Built-In
Broad range of Operating Temperatures
Braking units – Built-in
Heavy-Duty overload capacity
Modbus RTU fieldbus
Sensorless Vector and Torque control
STO (Safe Torque Off)
Mounting options: Wall, Flange, Rail
Configuration and Operation
Pairing Unitronics VFDs with Unitronics programmable controllers offers a faster, easier alternative to other VFDs on the market: all tasks can be programmed using the same software environment as the PLC and HMI applications.  Unitronics' software enables the user to rapidly set up, configure, and commission multiple VFDs, as well as to monitor and debug the VFD—either via the software or traditional oscilloscope.
Users can also operate their VFD directly from the controller's integrated HMI panel, allowing them to take advantage of the full color touchscreen. Another major benefit of an All-in-One Unitronics solution is Remote Access; users can monitor or debug the VFD via the software, web server, or even a VNC connection.
This addition from Unitronics allows OEMs to simplify and centralize their control needs, relying on fewer components from fewer vendors; they now can save time, budget, and effort with this all-in-one approach. Unitronics continues to uphold its commitment to innovating and integrating industrial automation.